Description
A fast paced arcade shoot-em-up. Survive through 37 waves of enemies with your quick reflexes. Each game is randomized for maximum replayability. Started at the Berlin Mini Game Jam with the theme "strange power-ups", some of the power-ups help you, while others make you more vulnerable. Dodge the nasty ones for a higher chance to stay alive. You have three lives. Featuring a catchy chiptune soundtrack and beautiful pixel art graphics for your delight.
The game is available on a pay-what-you-want basis. It's possible to download it for free. We would appreciate if you supported us in case you liked the game, by going back to the site and making a donation, the amount is up to you.
It's possible to get to the end of the game, I have done it.
History
This game was started at the Berlin Mini Game Jam January 2014. My friend Michael Hussigner was visiting, we teamed up, and we brainstormed about the theme "Strange powerups". We decided to go for a straight forward shoot-em-up game and introduce some humor in the form of annoying powerups that would get in the way instead of helping the player.
At the end of the jam, even though I had not had enough time to implement the powerups themselves, we had a basic shoot-em-up game that was already quite fun to play. I spent some days later that week implementing powerups and more enemies as I was coming up with them. Somehow part of the humor was lost, the "normal" gameplay was engaging enough that I toned down the nastyness of the powerups, them becoming a mix of "good" and "bad" ones. Part of the challenge in the game is to be able to avoid the ones that get in the way.
There is the possibility of a sequel. It would be a longer game with similar game mechanics, but more content in terms of types of enemies, types of powerups, and possibly introducing boss fights. It would be published under a shareware model: the first level would be completely free and fans would have the chance to purchase the full game at a fixed price. It depends on the reception of this one, if there is no interest then there's no point in starting work on a sequel.
Features
2d pixel art
Chiptune soundtrack
37 randomized waves of enemies
12 types of enemies
15 types of powerups, some good, some bad
your score is how far you make it
14 unlockable achievements
gamepad support
pay-what-you-want model
multiplatform downloadable: Linux/Windows/Osx
---
Videos
Trailer YouTube
---
Images
---
Logo & Icon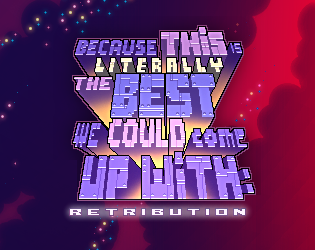 ---
Additional Links
Music: "Savage steel fun club"
by Rolemusic (Creative Commons - Attribution) .
Music: "En croisiere"
by Juanitos (Creative Commons - Attribution).
Music: "Okiirobo navigation system"
by Henry Homesweet (Creative Commons - Attribution).
Music: "Chips got kicks"
by RoccoW (Creative Commons - Attribution).
---
About Lair of pixies
Indie games from Berlin.
More information
More information on Lair of pixies, our logo & relevant media are available here.
---
Because this is literally the best we could come up with: Retribution Credits
Christiaan Janssen
Development, Sound
Michael Hussinger
Artist
Contact
---
presskit() by Rami Ismail (Vlambeer) - also thanks to these fine folks - impressum